Utterance as 'movement' praxis or the quantum leap of t/here | 2012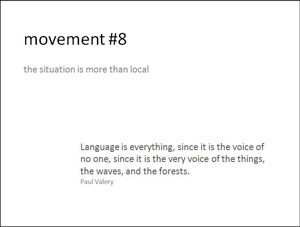 performative lecture shown together with the dancer Verena van den Berg at the Environmental Utterance conference at the University College Falmouth, UK, September 2012 / (this experimental setting that is part of the 'memacism' research project)
This performative lecture, that has been presented in a unique collaboration with the UK/Holland based dancer and movement artist Verena van den Berg has been concepted as a first research experiment for the larger project of memacism (motion embedded mind agency concept. (The text of the lecture can be accessed below.)
The lecture addresses the complex relationship between 'here' and 'there', 'absence' and 'presence' and the idea that its intertwinement and inherent indivisibility becomes disclosed in movement as embodied praxis. The presence of the 'here' of the conference setting emerges into the indispensable absence of the 'there' of the presentation through the indivisibility of 'movement' praxis.
It will address what Evans and Lawler define as "the significance or presence that things have prior to their articulation in language". Movement conceived as a 'language/utterance' in and with the environment, which includes the room, the people (audience, dancer, speaker), the chairs, curtains, and as well the text with its ability to call up past and future.
It had been intended that the experience of environmental utterance is initiated through and by the moving body. Direct part of involvement of the audience was that either the dancer moved between them and the speaker, with them or the speaker and finally the attempt to create for all together moments of mutual movement interactions within the actual setting.