memacism | 2012 – 2016

artistic research project – around the self invented notion of 'memacism'
memacism*       
"Becoming MEMA** defines the artist/researcher as a rather ephemeral 'animal', who's interest is set on the liminal space that accompanies the occurrence of shared openings evolving from the interference patterns of intra-active movements."
Definition: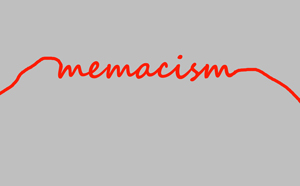 memacism (*motion embedded mind agency concept), also: Emacism (embodied mind agency concept)
related: Mema (**motion embodied mind agency)
Memacism as a terminology  emerged from the interest into the recent research field of embodiment or embodied cognition.  The approach understands the mind (cognition) as by fact being embodied and situated and thus defines its agency as simultaneously embedded in and emerging from a complex system. The definition of the body as "the possibilities of situations" by M.Merleau-Ponty has been an early predecessor of the definition of embodiment.
———
>>>    since its start in 2012 several texts for the artistic research project of 'memacism' have been presented in experimental research settings of performative lectures.
>>    Specific documentation on selected events can be find here and an updated listing of all events here.