Thinking on the move: Diffractive practices as embodied 'agential intra-action' | 2013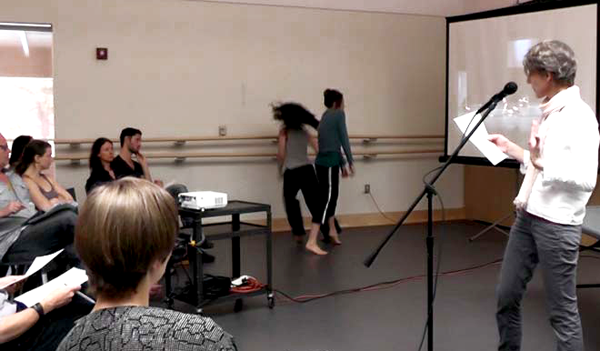 performative lecture in collaboration with the two dancers Sharna Fabiano and Sarah Jacobs (both MFA at UCLA) at 'Tactical Bodies: The Choreography of Non-Dancing Subjects' a joint special topics conference of Congress on Research in Dance (CORD) and Dance Under Construction (DUC) at UCLA, US, April 2013 / (this experimental setting that is part of the 'memacism' research project)
"Thinking on the move: Diffractive practices as embodied 'agential intra-action'" is a performative lecture, that takes as a central reference Laurent Chétouane's recent piece 'Sacré sacre du Printemps' (2012). It was developed along the lines of a research experiment serving the larger project of memacism (motion embedded mind agency concept).
"Thinking on the move: Diffractive practices as embodied 'agential intra-action'" continues my interests in building my lecture around a performative character, developed by leading a form of dialog and unique collaboration with dancers. I presented this version at UCLA, working with the US -based dancers and UCLA MFA students Sharna Fabiano and Sarah Jacobs. (The text of the lecture can be accessed below / a short video clip will be uploaded soon)
Throughout text and performance I introduce the usage of 'diffractive strategies' as applied by Karen Barad in the development of her agential realism that offers a 'reading' of concepts or insights through one another. This allows to 'rework' traditional views of representation and questions of how to approach the 'unseen', the 'Other', as that what is different in its very qualities, and that not yet belongs to our system of knowing.
This proposal of intertwined practices of knowing and becoming takes L.Chétouane's 'Sacré Sacre du Printemps' to challenge if 'thinking' through or from the body – already creates a non-representative space of knowing and for the 'Other' that has its possible initiation through its specific kind of approximation of the spatial situation.
In context with my current interest into the artistic research of 'memacism' I consider my attempts help to establish a line of experimental research experience which oscillates between theory and practice. The approach intertwines these both, usually as opposing regarded fields, to bridge the gap that within the field of my special interest, as well as in general for many aspects of western societies has been established as a mind/body dualism. To achieve this 'bridging moment', movement in its various forms is considered as world-making. The access regards motion in its various forms has having its incipience in moving the body, leading to movement that also includes the movement of thought, as well as moments that appear as stillness.
The two dancers have their own form of expression that attempts to draw from the approach L.Chétouane introduced to his dancers in 'Sacré sacre du Printemps', which at some point can be seen behind them (a short trailer of the piece can be found here). At the same time I present the paper that aims to establish a correspondence to K.Barad's notion of 'intra-action', as it seems to find relevance in the bodily movements that happen in both – the room and video. It is an experiment in and of real-time motion.
For this concept the dancers (movement agents) deal with similar statements as the speaker and the text through their very form of translation. They are considered the 'explorers of possibilities' in establishing their spacetimematter relation as the visibly moving and diffracting part, while the text attempts to deliver a similar probe through the movement of thought across the fields of philosophy, gender studies, embodiment, quantum implications and others. Both sides enact in diffractive intertwinement, as intra-action on various levels, that establishes the body in its constant movement as world making.
[hana-flv-player
video="http://www.mindgap.org/portfolio/mov/thinking_on_the_move_excerpt.flv"
width="300″
height=""
description="Thinking on the move at Tactical Bodies"
player="4″
autoplay="false"
loop="false"
autorewind="true"
splashimage=""
skin=""
/]video (excerpt): Thinking on the move
at 'Tactical Bodies: The Choreography of Non-Dancing Subjects'
Performer: Sarah Fabiano, Sarah Jacobs
Camera: Tonda Heidtke