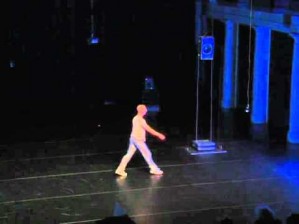 Andrea Bozic, After Trio A / video link via dance-tech.tv
"
After Trio A
is not a re-staging of
Trio A
but a dialogue with it." says the choreographer Andrea Bozic and to emphasize it, she replies to Yvonne Rainer's famous
No-Manifesto
:
No to spectacle. No to virtuosity. No to transformations and magic and make-believe
… etc. with her
After No-Manifesto
Yes to transparency. Yes to imagination. Yes to generation, confusion and questions
… etc. (
No Manifesto / After No Manifesto
)
There is no question that the importance of Rainer's contribution to dance in general and of the piece Trio A in particular lies in her attempt to reduce dance to its essentials and is considered one of the beginnings of postmodern dance. Yvonne Rainer turned the then current conventions of dance and the perception of body upside down, saying 'dance is hard to see' (link).
In this regard what then is the essence of After Trio A other than replaying the piece in a different timely context, within the rules of Rainer, but with updated stage settings? Does the juxtaposition of the No Manifesto with the After No-Manifesto now make dance easier to be seen? In fact Bozic sets the A Manifesto Reconsidered, a revised version done by Rainer herself in 2008, between the original No-Manifesto and her After-No-Manifesto. That can be read as a move to point out that we are meanwhile more familiar with the integration of everyday movement into dance. On the other side Bozic never refers again either to the revised manifesto, nor thereafter to her own one, and the questions remain what dialog did she initiate and which new aspect does her work add to the task that the unfamiliar is hard to be seen?
Generally these questions are not that easy to answer and at the same time to review the piece of Andrea Bozic, Julia Willms and Robert Pravda as if just an inversion of Rainer's original would not give the right impression either. Although, that is just what might come to mind when taking a first glance at the hand-out that one receives at the beginning of the performance, with the three different manifestos set aside and set in opposition to each other. In fact the work After Trio A (1) consists of several strategies the members of Judson Dance Theater and Rainer herself first employed: like acoustics via dropping objects, tap-dancing, teaching on stage, the buzzing sound as 'off' signal, usage of recordings, etc. The catalog of the recent Cologne retrospective states that in the final version of 'The Mind is the Muscle' from 1968, Rainer danced the concluding piece in tap-dancing shoes, subsequently teaching other dancers the sequence of steps on stage (2).
As R. Burt describes in his paper 'Don't give the game away: Rainer's 1967 reflections on dance and the visual arts revisited': During Performance Demonstration in September 1968, Rainer taught Becky Arnold Trio A live on stage. The program consisted of extracts of her evening length piece The Mind Is A Muscle (1968) for which Trio A was initially choreographed. Rainer and Arnold's on-stage rehearsal was preceded by two performances of Trio A, the first by Steve Paxton, accompanied by the Chambers Brothers' song 'In The Midnight Hour', and then by Frances Brook who danced while a taped lecture about the trio was played. [..] But to make things more complicated, Rainer arranged for fifteen people, who were not trained dancers, to invade the stage during Arnold's lesson. As Rainer describes it, they 'walked back and forth and picked up books and small articles that they had brought with them then left when the buzzer sounded' (3) . While this was taking place, Arnold and Rainer 'went bravely on' with their rehearsal (4).
Certainly Rainer did not want to restrict herself just to a purely minimalist style, in fact it can be traced that she was, as many artists of that time, concerned with states and traditions of spectatorship and representation that had been established in the acknowledged dance and performance scene. R. Burt pointed out in his lecture that Rainer and others have indicated, that Trio A is purposefully choreographed so as to be difficult to watch. Does this already make dance hard to be seen or is it not in fact the introduction of a general critical and experimental approach that extends beyond the staged event.
In an interview with Robert Storr in 2009 (5) Yvonne Rainer speaks about her occupation of that period which was mainly concerned with ballet and the narcissistic attitude dance or all staging entails, and her main cause was to question her own staging habits. The strategies she developed out of this were not to gaze out towards the audience, as an attempt to stay within the space her own body defined. This allowed her and her movements to appear more like with an (art) object like 'behavior' in contrast to the common subjective expressionism in this field. Another strategy was giving all movements the same 'weight' which introduced unpredictability as to the sequence of actions (in the sense of Cage / Cunningham).
As again R. Burt writes, Rainer was interested to find out what new kinds of performative behavior might be presented on stage, if she set rules that forced the dancer to break with habitual modes of performing. He refers to Rainer's intention that the beholder's relation with an art work can be redemptive by making her or him tolerant or even appreciative of the otherness of things and by implication of people. In this sense certainly dance then is hard to see, because the audience has to be engaged in the process of perceiving, as to find their own definition of what they see. And it could also be argued within a contemporary frame that Rainer already has been involved in the emergence of exploring dance and perception from a bodily and movement oriented point of view, which according to A. Noë allows us to see the/our environment (6). Following this statement from 1974, Rainer certainly was thinking within a similar mindset: "Neither should it be thought that the type of dance I shall discuss has been influenced exclusively by art. The changes in theatre and dance reflect changes in the ideas about man and his environment that have affected all the arts." (7)
To return from here to Bozic's attempted dialog with Rainer's piece – the question is, what environment becomes visible in her version? It is obvious that the work is not unfounded and quite some research on Rainer's Trio A has gone into it. But is it really in a dialog or is it not more likely a re-staging, that in consequently following and playing with Rainer's ideas allows us to see our contemporary surroundings, extended as they are, in and through technology. In the end After Trio A falls short on questioning our contemporary habits of perceptive and performative behavior in that specific environment.
Instead of the one-to-one teaching situation on stage, a monitor becomes the instructor by first showing Rainer dancing Trio A in 1978. Similar Rainer had again in her 2006 piece AG Indexical With A Little Help From H.M. instructed Sally Silver to copy a male solo from Balanchine's Agon by watching a video recording of it on a monitor that she had wheeled on stage with her. (8) This is followed by a recording of the dancer's learning circuit – now he/she has to learn from her own movements, and these loops continue in slight variations until a solo round without any technological guidance. Then a second dancer comes on stage and has to imitate the first one, later then to follow his/her own recorded screening, etc … It ends with two more rounds of the dancers in tap dancing shoes and some 'camp' outfit, with a concluding in some final 'unguided' rounds.
The sound of dropping slats, which in the original piled up at one side of the performance space, is substituted by a dropping speaker. Though now the frequency of the falling loudspeaker accumulates noise solely in the acoustic sphere, as its expressive form. While this was certainly already the case in Rainer's version, the visibility of that action now defines itself in space strictly through the activity of movement, the raising and dropping by R. Pravda of the speaker. It can be seen in a contemporary sense as a strict immaterial accumulation of 'data', which in the original 'analog' version left its traces as remaining object stack at the side of the space. This appears in some congruity with the juggler, who throughout all these circles and loops, comes on stage from time to time, to give short interludes of her skill. Sometimes this includes the juggler's appearance into the real-time screening loop, but in the next round she might be excluded of it because of the screening of earlier recorded material. Consequently her reference is not so much the one of magician, but her recurrence becomes a marker of the gap between the real/virtual dichotomy.
In intertwining various aspects of Rainer's general work and the famous Trio A Andrea Bozic's After Trio A quite manages to feature an up-to-date version of the original. But I would argue that it misses to develop a dialog in terms of a contemporary extension of that discourse Rainer once had initiated with and integrated into her work. The various elements Bozic introduces like the speaker, a screen as the second and/or third dancer in the trio, the learning from the frequently updated learning image circuit, … can be regarded as precise and contemporary transferred 'props' from Rainer's original piece. But in today's setting, lined out by the confusion of recorded and live moves plus real-time transmission – a strategy, which otherwise defines Bozic's piece – the according questions Rainer had prompted in her time are not addressed.
This problem becomes quite obvious through the projection of statements from the original No-Manifesto, which appear throughout the entire performance of After Trio A. Instead of putting out her own After No-Manifesto, and by this avoiding to not proving her own ambitions as radically as Rainer once did, the piece becomes a juxtaposition instead of a dialog. After Trio A is certainly worth to be seen as it carefully attempts to re-stage the original ambitions in a contemporary set-up. But Rainer's biggest concern about 'watching/being watched' and the question she had put out to herself and to the audience as the fear – that she might have initiated 'theater-objects that don't 'look back' at the audience, and if so, how's that possible where human performing is concerned? (9). At stake is here not the gaze as such, but the 'behavior' of the entire piece as an 'art object', which engages with the presence of the environment and audience, due to that very moment of performativity, but not of an overcome excessive staginess. Certainly that issue becomes more complicated in a society that has generally turned into a more 'detached' one by being in a constant state of remotely observing and being observed.
Though it still culminates in Alain Robbe-Grillet's quote, that Rainer had used in her 1967 essay 'Don't Give the Game Away' : 'Man looks at the world and the world does not look back at him' (10) – and one might add in regards of nowadays setting, while the world now constantly looks over and through him. The quote actually still addresses, as in its original sense the difficulty to grasp reality and thus questions regarding aspects of representation, that makes the everyday dance, even when staged, still so hard to see. Especially in our contemporary scenario, that as a default setting has always already devices and habits of mediation employed, though those remain not to be tackled in their representational attitude in After Trio A.
The piece employs contemporary technology in an intelligent and playful habit, which appropriates to the ironic wit of the wording of the After No-Manifesto. It creates a zealous reply to Rainer's version, though does not pick up the radical thread of that self-conscious, but questioning demand for new form of exchange (dialog) Trio A had brought forward between the performer and the spectator. Eventually to transmit that very move into the complexity of our contemporary situation of an overall mediated setting is one of thorough difficulty. In this sense After Trio A delivered an up-to-date scenario to create a visibility of this very predicament.
1 – or watch here (after min 6:00)
2 – quoted from: catalogue: Yvonne Rainer, Museum Ludwig, 2012, p.118
3 – Rainer in a letter to her fellow performers after a rehearsal: 1974, p.113; quoted after R. Burt
4 – R. Burt, 'Don't give the game away': Rainer's 1967 reflections on dance and the visual arts revisited.'; for 'Yvonne Rainer: Intermedial Constellations, A Symposium' at the Ludwig Museum, Cologne in May 2012
5 – Interview with Robert Storr, 2009
6 – A. Noë, Knowledge in Motion, transcript Verlag, 2007, 'Making Worlds Available', p.126
7 – Y. Rainer, Works 1961-73, Press of Nova Scotia College of Art and Design, 1974, p.64
8 – R. Burt, 'Don't give the game away': Rainer's 1967 reflections on dance and the visual arts revisited.'; for 'Yvonne Rainer: Intermedial Constellations, A Symposium' at the Ludwig Museum, Cologne in May 2012
9 – Rainer, Y., 'Don't Give the Game Away', in Arts Magazine 41 April 1967, p. 47
10 – ibid: p. 44-45
performance and talk with choreographer Andrea Boszic and the cooperating artists and dancers: HAU 2, Berlin, 7.December 2012
(get the text as pdf)