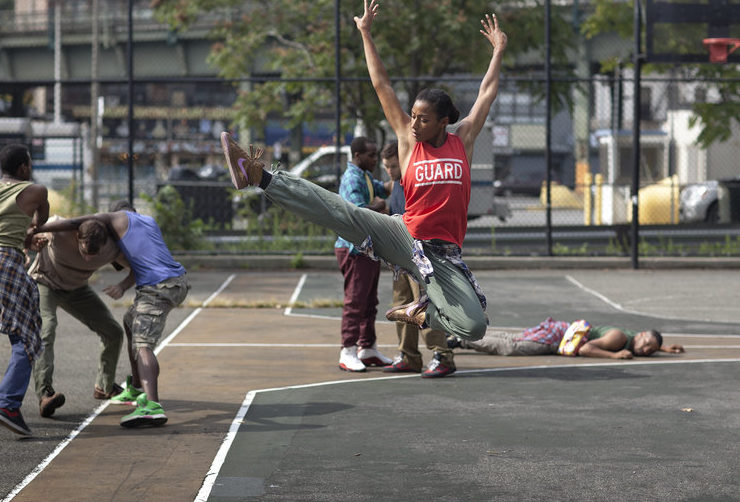 UPDATE 20.Nov: See here for a review in the Guardian.
A.I.M.'s piece Pavement is a gem, a real 'must see', in interdisciplinary choreography. While I was visiting with little more pre-information than that I liked the posters of street dance I was surprised by the layering of it with classical elements.
The dance clearly starts by playing out as expressive resistence, bringing in elements of (street) strength and ability, but also some comedy. The narrative is very obvious in the beginning and the story though oriented along the film Boyz n the Hood clearly one of its own giving the dancers space to express themselves in their moves. Soon the layering by more classical elements starts performed with such excellence, but also rupture and various out of the routine elements that it is a pure pleasure to watch.
Kyle Abraham/Abraham.In.Motion: PAVEMENT PROMOTIONAL VIDEO Created by Dancing Camera from Kyle Abraham/Abraham.in.motion on Vimeo.
As Kyle Abrahams the founder of the company remarks the piece is nevertheless very much built on own experiences: "In 1991, I was fourteen and entering the ninth grade at Schenley High School in the historic Hill District of Pittsburgh. That same year, John Singleton's film, Boyz N The Hood was released. For me, the film depicted an idealized "Gangsta Boheme" laying aim to the state of the Black American male at the end of the 20th century. Twenty years later and more than ten years into the 21st century, I am focused on investigating the state of Black America and a history the rein.
Reimagined as a dance work and now set in Pittsburgh's historically black neighborhoods, East Liberty, Homewood and the Hill District, Pavement, aims to create a strong emotional chronology of a culture conflicted with a history plagued by discrimination, genocide, and a constant quest for a lottery ticket weighted in freedom.
Looking primarily at Homewood and the Hill District, their histories run parallel. Both experienced a cultural shift in the 1950's when jazz legends like Ella Fitzgerald and Duke Ellington performed at local theaters, and Billy Strayhorn spent most of his teenage years. A half a century later, those same theaters became dilapidated. The streets that once flourished on family run businesses and a thriving jazz scene, now show the sad effects of gang violence and crack cocaine."
The following is from the KCRW website: Choreographer Kyle Abraham is a rising star in the dance world, integrating elements from his experiences as a black gay male growing up in Pittsburgh into his highly personal work. He knew he was meant to be a dancer after seeing the Joffrey ballet perform songs by Prince and music has had a huge impact on him ever since, from newcomer James Blake to Bill Evans. Kyle Abraham on his influences