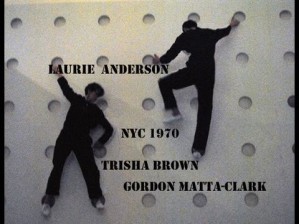 | | |
| --- | --- |
| | The current exhibition Laurie Anderson, Trisha Brown, Gordon Matta-Clark – Pioneers of the Downtown Scene, New York 1970s is much more interesting than many other recent one's in this field in my opinion. |
Performance artist and musician Laurie Anderson, choreographer Trisha Brown and artist Gordon Matta-Clark were friends and active participants in the New York art community, working fluidly between visual art and performance.
With the city as their backdrop, canvas, stage and inspiration, this exhibition is the first major presentation to examine the experimental and often daring approaches taken by these three key figures, both individually and collectively, in the burgeoning arts scene in downtown New York during the 1970s.
New York City provided a powerful context for the work of Anderson, Brown and Matta-Clark. On the verge of bankruptcy in the 1970s, the disappearance of manufacturing and other major industries and the withdrawal of public services were turning the city into a centre of widespread unemployment and lawlessness. Artists responded by taking over derelict spaces to make and exhibit their work, by using the city itself as the medium or setting for their work, by creating opportunities to engage directly with the public out of doors and by building a vibrant arts community.
Featuring sculptures, drawings, photographs, documentation of performances and mixed media works, the exhibition focuses on the intersections between their practices and explores their shared concerns – performance, the body, the urban environment and found spaces. (information via Barbican (London) website)
[flv:/mov/Anderson_Brown_Matta-Clark.flv 420 320]video via youtube
The show is so radically different from all the publicist ones, which – by all obvious love for performance and dance – don't get to any deeper point then that performance would be about movement and participation. But this is only one aspect and also has to be carefully distincted from the so many other forms of participation, which evolved during the last years. The artists 20 years ago certainly had various intentions and pure participation was not the main one. This new show dares a quite radical selection of three distinguished artist out of the same period, city and cultural environment and brings them together to explore their overlaps, inspirations and mutual contributions.
Trisha Brown, dancer and choreograph, Laurie Anderson, musician and visual artist, and Gordon Matta-Clark, visual artist and spatial entrepreneur, certainly had more in common then just being during the same time period in the same city. The show strives for their backgrounds, the motivation and the inspirations of these artists.

Part of the pieces, especially of Trisha Brown, are replayed by staged performances, part like the Open House of Matta-Clark can be explored by oneself and little Hologram Laurie Anderson needs you kneeling to listen to her. As I had been thinking a lot about what went so wrong with the 'move' show, that most of the time in Munich now a third of the pieces is damaged and thus removed or shut down, I think it is the reduction to an only 'try and touch it' habit, rather then to emphasis explore and experience what was it about. And honestly the Munich show made me quite sad to see Lydia Clark's works ripped, in Dan Graham's piece the camera broken, etc …

Certainly performance art was about more then just touching it, and though it is and was about participation, as finally a detailed description of Matta-Clark's 'FOOD' showed, but also about a critique of the existing and a new experience. And what especially the performance scene was about – exploring spaces, breaking through the predefined meanings of space, re-defining the 'stage' and 'gallery' as street, garage, loft, kitchen, etc.. needs a very thoughtful handling. Thus it is just logically, that bringing the movement just back into the enclosed, predefined space, they tried to leave or extend, is a very delicate enterprise, which needs much more thought-through and careful handling as the 'move' show had invested in.

img via NYT
(And BTW … all of this has nothing to do with being romantic about the pioneers and not accepting a straight-forward-nowadays approach of the 'touch me, feel me' attitude, just in contrary. I just think there is much more to learn about and from it, as just grabbing … A film, which might in this regard be seen as 'forward', but still is highly romanticizing is certainly Wender's Pina, though it kept me from liking it, as I know Wender's – and he even stays quite 'cool' here – and especially manages to give the dancers space and a 'voice' … but more about this another time.)

img via Guardian
"New York in the 70s was Paris in the 20s," Anderson has said. "We often worked on each other's pieces and boundaries between art forms were loose."
The artists lived close to each other, illegally occupying the disused lofts. "There was a confluence of ideas," said Yee, "and everybody seemed to go out with everybody else at some point." (via Guardian)