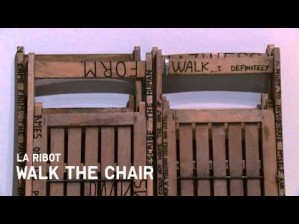 Munich's Haus der Kunst currently hosts two shows worth visiting – 'move – Art and Dance Since the 1960s' and 'Future Beauty 30 years of Japanese fashion'. For the moment I will mainly focus on the first one, but also come back on the fashion show 'future beauty', which covers 30 years of Japanese fashion design.

Both shows are fun, each in its own way, though 'move' is quite a bit more extraordinaire in its self-understanding. The show, which before was on display at the London Hayward Gallery and there had been called 'Move: Choreographing You – Art and Dance Since the 1960s', which was a bit more accurate in terms of what to expect from it.




catalog cover: Move: Choreographing You – Art and Dance Since the 1960s
When I first heard about the exhibition I was excited and curious to see a major show focusing on performance and dance, which also claimed to incorporate some of the newer developments and seemed open to thoughts from the relatively new field of the 'moving arts', which does no longer that strictly differentiate between 'dance', 'artistic performance', happening, etc, but instead tries to review new developments and reveal its roots.
The task of curating a show focusing on performance or dance always has been quite demanding. How to capture and display one of the most liminal forms of art productions? How to make the moment, which is not supposed to last comprehendable? How to extend the passage of fleeting time, where both – the more theater oriented dance and especially the only once-to-be-performed artistic happening were coming from – appropriate for and into the opening times of an art institution?

Franz Walter, move, Munich
Marina Abramovic undertook her controversially discussed attempt of museification last year by initiating the replay of many of the elder Abramovic/Ulay pieces through various performers, who had to present for the re-enactment during the opening times of her retrospective at the moma.
Tino Seghal is an other candidate, who tries to deal with the fleeting moment of time-based art production by incorporating the immaterial moment into the conceptual idea of his production. As successful as he is within the art scene, his understanding of the immaterial isn't that original as it seems, when recalling the history of the avantgardes. From this point of view also the question evolves if he really works that strictly within the field of performance and dance or if he not more likely continued to explore just another angle of conceptual art. Right from the beginning his pieces have been conceived for institutional spaces, much more akin to the conceptual poems and instructions of Fluxus, then to embody the anarchic attitude from where performance and happening had emerged. In contrary to these actual attempts the very early performance and dance scene tried to leave stage and other formally institutionalized spaces and re-invented their practice as and in new open fields trying to incorporate the street, offside-spaces, specific architectural scenarios, etc …
…..So this isn't an exhibition you can just saunter around – it tends to require a kinetic response, which is precisely what Curator Stephanie Rosenthal intends: "I believe that this will be a totally new approach to experiencing the crucial and inspiring relationship between art and dance. I hope that the exhibition will give people a new awareness of their own bodies in space and how they can interact with the environment around them." … (excerpt from
londondance.com
)
.. and certainly it is a quite new experience for a museum show and it is a positive one. But is it one about art and dance since the 60s? Certain is that the title, which was used in London 'Move: Choreographing You – Art and Dance Since the 1960s' was more precise … and I wonder why one left out that important insert 'choreographing you', when the show arrived in Munich. This little insert of two words is the indicator of what to expect, when you go to see that show and it prevents one from anticipating that one would get much of an overview of art or dance projects of the mentioned period.
…. But is it art? It's not really dance is it? Should we even bother with these questions? Whatever it is, this exhibition stimulates and engages. Go prepared to interact. With Xavier Le Roy and Marten Spanberg's group of resident dancers, who are primed to 'activate' some of the works and engage in conversations with visitors, you might not have much choice – and chances are you'll get more out of it. At a press briefing, choreographer William Forsythe described the exhibition as being at the "inadvertent intersection of practice." It's a creative place to be…
Accordingly most of the reviews I read so far emphasize on the 'movement' issue and describe it as an adventurous playground site. A site to have fun and to experience. Certainly that was a major idea for some of the displayed artists, though it wasn't for all of them. Issac Julien's cinema installation feels a definitely displaced within the scenario of 'movement'. And as much Lydia Clark's pieces, ideas and workshops encouraged to participate and experience yourself, your feelings, unknown sensations it was still initiated under a very different frame and understanding of participation, then the one currently to be experienced or understood. And in the end there is a real let-down, when one tries to explore, what is announced as the extensive archive of performance and art of the 60s. True is that there are quite several computer terminals, which invite you to take a seat and watch various sequences from dance and performances. The interface is at first glance very nicely done: a meandering stream of stills invites you to click and view the excerpt. Though usually I would expect of an 'archive' that I can get some information, but more then the artist's name, the title, year and duration of the excerpt is not given. No information in which context that person worked, how they continued to work, the field the belonged to within the art scene, no comment if formerly classified as 'dance', 'happening', or even being an important landmark within the scene like the work of Dan Graham .. etc … is it an archive for experts? .. for people who just don't have access to the footage all the time? But this would create a total juxtaposition to the experience in the front rooms, where a practice oriented attitude wants to help people to get a 'feel' for the usually so difficult to be transmitted field of dance and performance.
The joy, beauty and power of movement is certainly celebrated and fostered in many pieces of that show, though the idea of movement as a form of intelligence, expression and communication in the way Pina Bausch had mentioned: "I'm not interested in how people move; I'm interested in what makes them move." .. and what was in a similar way also a moving force for many of the early performers does not seem to be supported, nor even been addressed.
I have been there now some times. My visits have been short and in a way disappointing. I return with the impression, that either the project wasn't thought through carefully enough or some sort of misunderstanding of the performed and performance happened, which would explain that works like Jankowski's Rooftop Loop win by 'participation' over so many more important, but excluded pieces. And it not only becomes obvious in terms how the volume of the video overpowers the nearby archive stations, but may eventually become a definition of the general syndrome. A misunderstanding of some mingling up, that performance was (more liekly maybe is) about participation only, about a lazy society, which needed to learn to move again …. but wait … no it wasn't.
It was eery, daring and experimental .. it was touching .. down to a point, that was barely tangible. Is there nothing hidden anymore? Doesn't it feel like laziness that there is no interest into the current research, the current experimental. Wasn't performance about something untouchable by the known .. it was not about moving, because of moving, it was that because the right move might cause some movement of something else … in this sense Wenders' cinema of lasting moments understands more of Pina, than this show of temporary experience ….
Yes, it is about time, the moment. No, you don't find me in here ….. try to catch me there. I am here.
UPDATE: .. a nice video on 'move: choreographing you …' from the Hayward show: