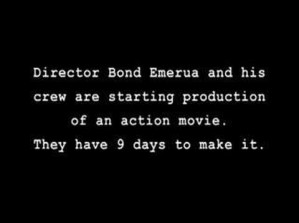 Two recent films will help everyone interested to get information and some insight into the phenomenon of 'Nollywood' – the nigerian video feature film industry – a not so recent, but increasingly developing cinema of its own standards.
The 2006 production This is Nollywood by Franco Sacchi describes itself as a documentary film that captures the spirit of Nigeria's booming movie industry.
Nollywood, Nigeria's booming film industry, is the world's third largest producer of feature films. Unlike Hollywood and Bollywood, however, Nollywood movies are made on shoe-string budgets of time and money. An average production takes just 10 days and costs approximately $15,000.
Yet in just 13 years, Nollywood has grown from nothing into a $250 million dollar-a-year industry that employs thousands of people. The Nollywood phenomenon was made possible by two main ingredients: Nigerian entrepreneurship and digital technology.

In the late 1980's and early 1990's, Lagos and other African cities faced growing epidemics of crime and insecurity. Movie theaters closed as people became reluctant to be out on the streets after dark. Videos for home viewing imported from the West and India were only mildly popular. Nigerians saw an opportunity to fill the void with products of their own.

Experts credit the birth of Nollywood to a businessman who needed to unload thousands of blank tapes and to the 1992 video release of Living in Bondage, a movie with a tale of the occult that was an instant and huge-selling success. It wasn't long before other would-be producers jumped on the bandwagon.

Currently, some 300 producers churn out movies at an astonishing rate—somewhere between 500 and 1,000 a year. Nigerian directors adopt new technologies as soon as they become affordable. Bulky videotape cameras gave way to their digital descendents, which are now being replaced by HD cameras. Editing, music, and other post-production work is done with common computer-based systems. The films go straight to DVD and VCD disks.

Thirty new titles are delivered to Nigerian shops and market stalls every week, where an average film sells 50,000 copies. A hit may sell several hundred thousand. Disks sell for two dollars each, making them affordable for most Nigerians and providing astounding returns for the producers.

Not much else about Nollywood would make Hollywood envious. Shooting is inevitably delayed by obstacles unimaginable in California. Lagos, home to 15 million people (expected to be 24 million by 2010), is a nightmare of snarled traffic, pollution, decaying infrastructure, and frequent power outages.

Star actors, often working on several films at once, frequently don't show up when they're supposed to. Location shooting is often delayed by local thugs, or "touts", who extort money for protection before they will allow filming to take place in their territories.

Yet Nollywood producers are undeterred. They know they have struck a lucrative and long-neglected market – movies that offer audiences characters they can identify with in stories that relate to their everyday lives. Western action-adventures and Bollywood musicals provide little that is relevant to life in African slums and remote villages.

Nollywood stars are native Nigerians. Nollywood settings are familiar. Nollywood plots depict situations that people understand and confront daily; romance, comedy, the occult, crooked cops, prostitution, and HIV/AIDS.

"We are telling our own stories in our own way," director Bond Emeruwa says. "That is the appeal both for the filmmakers and for the audience."

The appeal stretches far beyond Nigeria. Nollywood films are proving popular all over English-speaking Africa and have become a staple on M-NET, the South African based satellite television network. Nigerian stars have become household names from Ghana to Zambia and beyond. The last few years have seen the growing popularity of Nollywood films among African diaspora in both Europe and America.

"Look out, Hollywood," one exuberant Nigerian producer exclaims. "Here we come!"
Welcome to Nollywood is a documentary film produced in 2007 by Jamie Meltzer.
The Nigerian film industry, known as Nollywood, has exploded in the last ten years. Now the most popular cinema in all of West Africa—more popular even than imports of Hollywood or Bollywood films—the Nigerian film industry has distinguished itself by shooting all films (called video films there) on digital video.
This has allowed production schedules to be compressed (films are shot in several days) and immediately brought to market (distribution consists of bringing films to Idumota electronics market in Lagos and selling them for home viewing). The sheer volume of Nigerian video films is staggering: one estimate has a film being produced for each day of the year. Nollywood is now the third-largest film industry in the world, generating US$286 million per year for the Nigerian economy. And yet this vibrant, profitable industry is virtually unknown outside of Africa.

The film looks into this newly emerging film industry, exploring its peculiar inner workings, economic challenges, and diverse array of colorful films. Traveling to the country's chaotic capitol, Lagos, Meltzer spent ten weeks following three of Nigeria's hottest directors, each different in personality and style, as they shot their films about love, betrayal, war, and the supernatural. Welcome to Nollywood tells the stories of these three directors and their latest productions, while also using interviews with scholars, actors, and journalists who celebrate (in insightful and often humorous ways) the Nigerian video-film industry as a whole, its unique character and genres, as well as its impact on the culture of West Africa and Africans at home and abroad.[4]
(excerpted from wikipedia)
… further links:
New Nigerian Cinema: An Interview with Akin Adesokan
Step Aside, L.A. and Bombay, for Nollywood