Origanially coming along tropolism was the project description of implant matrix defined here as composed of "purpose programmed micro-controlled sensors and actuators that provide a mechanical response to user stimuli". It is organized as a large organic array shape memory alloy (aka muscle wire) driven pores open and close as people touch sensors that are suspended from the matrix. It looks like it's going to come alive and creep around the room.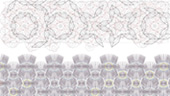 The architect's website delivers a detailed explanation (link):
Implant Matruix an interactive geotextile that could be used for reinforcing landscapes and buildings of the future. The matrix is capable of mechanical emphathy. A network of mechanisms react to human occupants as erotic prey. ..
The components of this system are mechanisms that react to human occupants as erotic prey. The elements respond with subtle grasping and sucking motions. Arrays of 'whisker' capacitance sensors and shape-memory alloy actuators are used to achieve sensitive reflexive functions. The interactive elements operate in chained, rolling swells, producing a billowing motion. This motion creates a diffuse peristaltic pumping that pulls air and organic matter through the occupied space."
If you still wonder … go and read the nicely done post on BLDGBLOG which meanwhile has been published and attempts not only to describe carefully this work, but as well others of the Philip Beesley Architect's online gallery.