The Touching Moment: touching matter – matter of response | 2014
In Dialogue 2014, Nottingham UK
'Touching Moment' – performer: J.Britton; K. Hall; L.Holt; camera: R. Ferguson
talk /movement performance – presented together with:
Jack Britton – performance maker and traceur (parkour practitioner)
Katherine Hall – interdisciplinary dance artist
Lewys Holt – freelance Dance Artist
In Dialogue 2014 An International Symposium that interrogates how artists and researchers use dialogue in practice
2nd October – 4th October 2014, Nottingham / UK
(For further contributions of the event please refer to the symposium website.)
The project attempted to present a text based on thoughts about the dialogical impact of touch through movement and to create a dialogue with the audience. The talk is intercepted and responded in and through movement. Intra-acting at different levels of expression, that each has their very own field of resonance.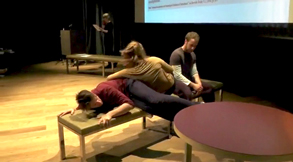 The aspects of touching upon something or being touched affects movement in general and thus the way orientation is formed along the lines that define our habitual view as knowledge of and in this world[1]. "Touch moves and affects what it effects."[2] K.Barad expresses here the responsibility and interdependence of matter(ing) that defines us and the world around through this intra-action that entails the touching moment in its manifold meanings.
Like dialogue, touch can never really grab or incorporate something external, but may reveal the self within the other and the other within self. This is the paradigmatic nature of any dialogical exchange, which never fully 'gets' the other, but eventually creates a resonance that bounces off towards new insights.
Touching, understood as intra-active form of contact transposition reveals an infinite alterity that leads to a response/ability engaging both sides, and cannot be performed without mutual involvement.

video (excerpt): The Touching Moment: touching matter – matter of response
at In Dialogue 2014 – An International Symposium that interrogates how artists and researchers use dialogue in practice
Performer: Jack Britton; Katherine Hall; Lewys Holt; Monika Jaeckel;
Handheld Camera: Rachel Ferguson
Technician (Camera and Sound) for In Dialogue: Jim Brouwer
To watch all the presentations of In Dialogue 2014 symposium please go to the Nottingham Contemporary / In Dialogue website and scroll down to the video section.