DOVwKP – The Demand of Visibility within Knowledge | 2003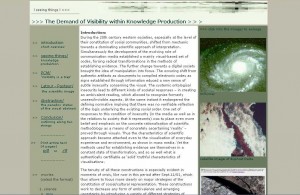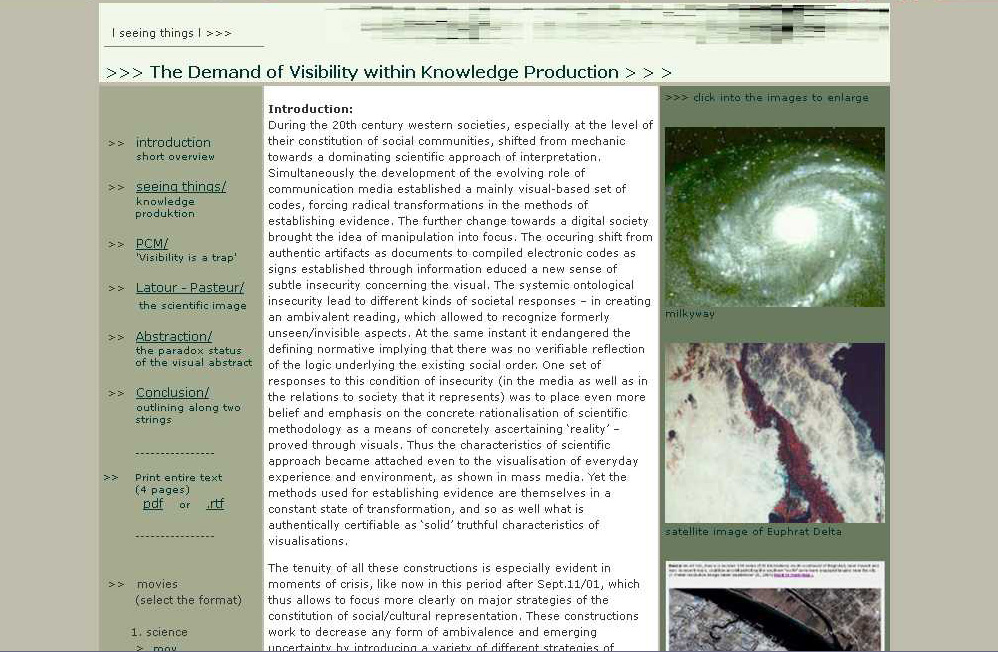 a lecture presented in the context of the 'seeing things' conference in London, University of Western Ontario, Canada, May 2003
The talk was supported by a small online presentation, which still can be viewed online or here as offline version. The pdf of the text is available below.
'DOVwKP – The Demand of Visibility within Knowledge Production' focuses on how criteria of the scientific visual abstract have emerged into the daily imaginary and influence the construction of our view onto reality and the world.
The creation of knowledge/information in western societies is dominated by the logic belonging to predominantly scientific approach. This construction in turn evolves structures defining the parameters of in/visibility within the social. In this framework, the concept of the seen' operates as if self-defined, as its interpretation remains strictly based from within this system of scientific developments. If assuming knowledge/information production today as still related to 'making things visible', it is then equally associated to the instruments developed and used for that process. In this regard, there appear suggestive connections to the notion of a 'paranoid' construction of the world made visible. A perfect example illustrating this is B.Latour's analysis of Pasteur as mentioned by J.Hunt.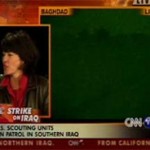 For Latour the creation of a proof is problematic as it is made obvious as the slight, but unconscious perception of the whole subtle construction. This constant endangering of dissolution through its own recognition brings with it the demand for readable confirmation. Nowadays the need for evidence and authenticity increases not only by the methods used, but equally through the produced amount of ongoing visualization.
Scientific imaginary, which today depicts our world-view up to a high degree, increasingly develops into abstract visualization. It is the nature of the scientific image, that it only can be read in a chain or flow, and trough a predefined code. Because of this, it cannot be interpreted clearly, when standing for itself. The defining criteria of the visual abstract increasingly are transformed onto almost any material of visualization, this becomes evident either through the devices employed or the methods applied. Though logically it simultaneously establishes the inside structure as a self-centered construction of the interpretation of the seen.
Connected to this is the dictate of dominant cultural forms of the west, which still define diverse cultural representation and identity from this predefined/coded material or better extremely centered point of view. This equally leads to very narrow possibilities of 'visible' self-definitions for other forms, as in many cases just not being recognized.