| | |
| --- | --- |
| Wooster Group's latest production 'Hamlet' is based – as they describe it themselve – on the reversal of Richard Burton's Hamlet (1964), which was based on the idea of transferring a Broadway Production to cinema. But here they now rewind the process into an editing of the existing film to extract fragmentic pieces for construction of a hypothetical theater piece. They compare their process to the excavation of an archaelogist, who deduces from a collection of fragments the potential form of an entire object and state. Although the attempt of this form of re-production is to catch the ghosts of the legendary performance, the actors lapse into a kind of madness and exchange their spirit with those of the other pre-exsisting ghosts. | |
This resolutely contemporary Hamlet, also resolutely true to the original, is filtered through the sound and image technology in which the group excels. Footage from various Hamlets is sampled and collectively reinterpreted and performed to highlight the cultural layers attached to this seminal text. And the actors' bodies improvise their dialogue with the images shown on monitors, providing a new reading of the play. (
link
)
One of the most striking scenes in this sense of deconstructing the conventions of theatre – beneath Shakepeare's own comments in the original text – was the staging of the re-enactment of the murder scene, which now not only became a theater staging within the piece, but within the re-enactment of the entire complex process and intertwinement of replay and re-staging.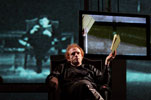 The Wooster Group re-enacts ….. Richard Burton's Hamlet …………………….
Pioneers of the uses for theater of film, video and multi-track scoring, The Wooster Group has been more recently exploring applications of these for the purpose of creating "simulacra" : representations – travesties even — of something real. The collective furthers the experiment by recreating Richard Burton's 1964 "Theatrofilm," in which a stage production of "Hamlet" was filmed from 17 different camera angles, then released for simultaneous screening across the country. On stage, the Group does not so much play "Hamlet" as reenact Burton's attempt to bring theater to the masses, the film playing all the while behind the actors who sample it and interact with it via a process known as "video streaming." In other words, the ghost at the show's center does not haunt the Danish prince so much as the company's rereading of Shakespeare's text, as The Wooster Group continues to question both theater and our assumptions about it and to demand that it engage with the society it is meant to reflect. (
link
)
More reviews to look at: thearcadesproject
..and … if it comes to a theater near you – I just can advice you to go, to see that intelligently done performance piece of (re)mediation.