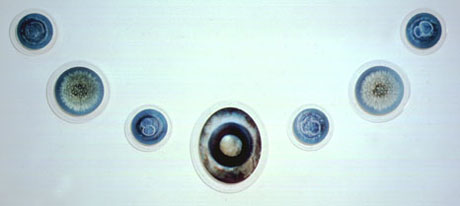 Nebula, 1996, Helen Chadwick, image via
It is a positive surprise to find Helen Chadwick quite a few times listed and recent publications on her work, thus memorizing the special sensation an encounter with her work left at the time, when she still had been around – introducing an ambivalence along a fine line between the coporal and intellectual as an exploration of something to experience ahead.
An interview with her and some general description of her work.
More specific: an essay on 'Helen Chadwick: One Flesh' and reviewing her work due to a first retrospective of her art, organized by London's Barbican Art Gallery here.
UPDATE: from the metamute issue 29 / 2005 a short excerpt from Stella Santacatterina's review (not online available) of Helen Chadwick's recent retrospective at the Barbican:
Chadwick's themes, imaginary and overall approach to the materiality of art prefigure what was to emerge as the dominant tendency in British Art during the 1990's. [..] … from Damien Hirst, Sam Taylor-Wood, Tracey Emin to Marc Quinn, and so forth, we see a disturbing spectacularisation of what for Chadwick was a passionate and personal enquiry into the conditions of contemporary exsistence. Unlike this cadre of artits, Chadwick was not concerned with senstionalism or the infantile transgressive mode, but with a search for the moments of intersection between art and life.