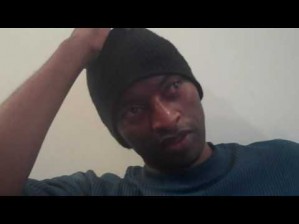 The choreographer Boyzie Cekwana grew up in Soweto and started his dance career in South Africa. Since then, his work has been shown all over the world; in
Europe this includes the Théâtre de la Ville in Paris, the ImpulsTanz festival in Vienna, and the Kunstenfestivaldesarts in Brussels. In his productions, Cekwana links the history of black South Africans to the universal human condition. His recurring themes are the identity crisis of the post-Apartheid period and the cultural heritage of his country and his Africa.

In his new creation, Influx Controls: I wanna be wanna be, he appears alone on stage. He takes his inspiration from a journey he made to the Democratic Republic of Congo and the work is founded on a deep indignation at the dehumanisation of Africa, its peoples and its heritage, both in the past and at present. This solo, the first part of a new trilogy, plays on identities and their ambiguities. The title refers to an Apartheid law that denied black Africans access to certain, richer, parts of South Africa, and at the same time sounds like a call for the right to humanity.

'I wanna be' is that asphyxiated cry for total and ultimate assumption of full humanity. 'I wanna be' is I wanna be white, since whiteness is goodness, rightness; whiteness is having, in a world of have-not ness. 'I wanna be' is I wanna have, for to have is to be. 'I wanna be' is I wanna be human. 'I wanna be' is I wanna be. Let me be. — Boyzie Cekwana

via KAAI
Boyzie Cekwana starts his performance with a long phase of doing his make-up, in which he transforms himself from being black to a black guy on stage. When Bruce Naumann transformed himself once in his reknown Make-Up Art Video to "self-experience in an action [of] one's own body and some sort of self-reflection on the part of art through the observation of the process of its creation", and gave way to a reflection on transformation to and through the spectator. Back then it was certainly to a different intent disturbing, as when B.Cekwana now in his performance starts to blacken his face, indeed his whole head, by painting carefully along the lines of classifications, he first had painted carefully across his head – and break the spectators expectations of transformation through the reflection of the inherent perception, black people have been and still are confronted with. One could still refer to Nauman, but interpret that Cekwana uses the process of Make-Up to reflect an ongoing self-experience initiated through action, back onto the audience as a reflection of their conceived perception.
So the evening at the Ballhaus Nauynstrasse Berlin might be best described as a subtle breaking of expectations and views through methods, which range from almost boring and lasting repetative movements to ferocious symbols and strong words. In the midst broken by an intensely beautiful african song, sung from singers placed in the audience.
The pain, disruption and disturbance, which colonialism and apartheid systems meant and mean to the cultures, which have to endure it, became quite palpable in this evening he called himself rather a spectacle than a performance.