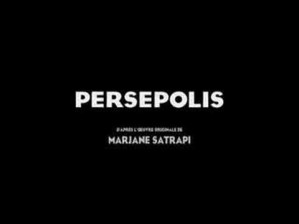 Persepolis, the animation film after the books by Marjane Satrapi (see earlier post), starts to be around, and after seeing it myself I just recommend to go and see yourself ….

YouTube link … and more here
.. and to leave no more words, but just agreeing on this salon review..
People who have no interest in graphic novels often think the people who love them are nuts, and vice versa. But every once in a while, there's a book — or a set of books — potent enough to close the gap between the people who read "comics" and the people who don't. ….
The "Persepolis" books are drawn in a deceptively simple, stark style, all in black-and-white: They're captivating and elegant in their austerity, like Japanese woodcuts. But they also radiate warmth and good humor, even when they're used to tell stories that are often very painful. …
… The animated picture, in French with English subtitles, is a concise condensation of the two books that never feels rushed or unduly truncated. It's intimate, as a biography ought to be, but co-directors Satrapi and Vincent Paronnaud also manage to give it a panoramic scale: While the movie doesn't attempt to be an Iranian history lesson, it does capture the way people's lives can be both drastically changed and yet, in some ways, remain defiantly unchanged when their government subverts everything they believe in, using God — or some version of God — as its chief weapon.
(read on )